How to bring wines from Italy in your luggage?
Italy is one of the largest, best and most famous wine producers in the world, surpassing traditional France. Everything in Italy favors the production of award-winning and renowned wines: the soil, the location, the perfect climate and the huge variety of grapes; together, combined with the viticulture practices brought by the Greeks for thousands of years, the country produces numerous labels of the most varied types: smooth, dry, white, red, rose and excellent sparkling wines. Let's learn how to bring wines from Italy? Also read "What are the types of Italian wines?" and "Italian wine roads!" Here at Your Travel to Italy with Ana Patricia you make the trip of your dreams!!! ALSO: see our "Accommodation in Italy – Tips for your holidays!"
Our introduction
Each region has a unique way of producing its wines and they are all very proud of their products. The regions that stand out the most are: Piedmont, Tuscany, Calabria, Abruzzo and Veneto, among many others and each of them, as we said before, have a unique style! Let's learn more about Tuscan Enogastronomy?
Did you know that all the Italian regions produce wine?
We know that outside Italy, some Italian labels can be very expensive and this is all because of the heavy taxes applied on alcoholic beverages, especially imported ones. For this reason, many travellers travel to Italy only to buy wines and supply their cellars. Does it worth? Yes, it does! Wines purchased in Italy cost up to 1/3 the amount you would pay around the world! As sending alcoholic products to many countries is prohibited, the best solution is to buy abroad and bring it by plane.
TYPES OF SUITCASES
But, how to bring the bottles safely? Did you know that there are suitcases specially made for these jewels? Yeah! They are suitcases made only for the transport of wine bottles and, below, we will present you some options.
VinGardeValise
The most recommended, and one of the most sold, is the VinGardeValise® rigid suitcase, with capacity for up to 12 bottles of wine. Foreigners have a spectacular baggage allowance advantage in almost every country in the world: you can board up to 02 volumes of 23 kg each (economy class) and 32 kg (business class), returning from abroad, with up to 12 liters of wine, i.e.: 16 bottles of 750 ml. Furthermore, olive oils, liqueurs, cosmetics and liquids can be accommodated perfectly too. Always advise before traveling, consult the Internal Revenue Service (IRS) website of your country and always consult the website of your airline. Some airlines do not allow drinks when checking in your baggage.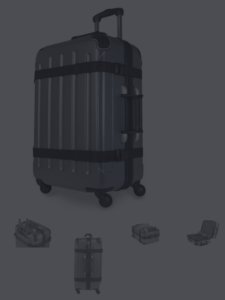 Alitalia allows the shipment of alcoholic beverages only if they are in the original packaging, with a volume of alcohol between 24% and a maximum of 70%, in containers of maximum 5L and a maximum quantity of 5 liters per person.
Note: Liquids in hand luggage are limited to 100 ml and, at most, one liter (total) at the security checkpoint, larger quantities will be rejected.
It's resistance!
There are a multiple types of uses for this suitcase. It is all rigid and has internal protection, so you can travel with peace of mind knowing that your glasses will reach their final destination intact! This suitcase is extremely sturdy and supports the 'rough' handling of airlines and other baggage operators; externally it is made of 100% polycarbonate and inside it has a high density foam, in addition to complying with all applicable TSA (Transportation Security Administration) and FAA (Federal Aviation Administration) air luggage standards.
Suitcase Description
The internal cavities for wine accommodation are removable and specially designed so that you can make a combination of bottles of any shape. In addition, you can adjust it internally to accommodate your bottles and other items, as its interior is fully modifiable. The four swivel wheels facilitate movement whether you are boarding or disembarking trains, walking paved roads, or carrying various pieces of luggage. Investment amount: EUR 299.00.
Wine Check Elite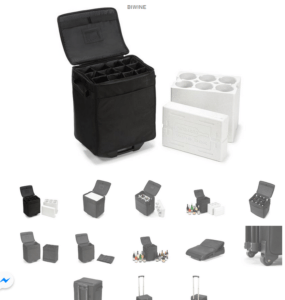 I now present the Wine Check Elite, another safe and practical option. This suitcase is approved by the airlines and can be shipped. The padded partition allows up to 12 bottles to be placed upright and can be removed, folded or rolled up, allowing you to use the suitcase not only to transport bottles.
Suitcase Description
Put on the robust bottle protector and you're ready to fly with up to 6 bottles on the plane. Just pick it up the treadmill like any other suitcase! It is also foldable and, when folded, measures less than 15 cm in height and can be accommodated inside another suitcase. Investment amount: EUR 129.00.
Wine Check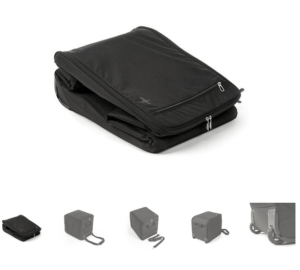 And, last but not least, we have the Classic Wine Check (without bottle protection), another safe, convenient and interesting way to transport up to 12 bottles. Your wine will be protected by a patented design, it is light and the wheels and the attached handles facilitate transport. When folded it can be placed in a suitcase taking up very little space, in addition to being very light. Investment amount: EUR 79.00.
Important to Know
It is worth remembering that when accommodated without protection, in conventional suitcases, the bottles can break, causing immense inconvenience to the owners of luggage, such as stained clothes! Why take the risk, right?
Looking for a special suitcase to transport your wines?
The company responsible for these unique products is Lazenne and they deliver to any hotel/home in Europe. You can pay using your credit card, and they offer different currency choice to make your life much easier! Are you curious to learn more about it? Then click on the banner below without purchase obligation and get to know all the accessories available. You're gonna love the options!

Watch this video and learn: 
Subscribe to our channel and receive more videos with information and tips about Italy. Don't forget to leave that Like;)
---
THE BEST REFERENCE AND TIPS GUIDE FOR YOUR


TRAVEL TO ROME!
"Your Travel to Rome" is the quintessential e-book for your travel to one of the finest tourist destinations on the planet!
LEARN MORE
---
Conclusion
How to bring wines from Italy in your luggage? We saw here that for bringing wines safely it is worth investing in a good suitcase. Not to mention that you will have a beautiful, elegant and very high quality suitcase.
If you feel insecure or have no time, and need help to organize your trip, do not hesitate to look for me! I will love to help you make your dream trip to Italy. And how can I do that? Continue reading this post until the end and you will understand how can we make your life and journey easier 
Did my post help you? If yes, make sure to leave your comment below, but if you still have questions, just leave them as a comment below and I will reply, O.K.?
---
An Extra Help for your Trip
The best content from Your Travel to Italy!
---
Learn more about our tours in Italy right now!
Best regards from Italy