What to do in Lake Garda in two days?
Lake Garda offers countless options for tours and, if you want, you can spend days and days there, because in addition to not getting tired, you will be able to visit everything calmly, without haste, which is the ideal to get to know this very special place. However, if you only have two days to explore the area, it is possible to set up various types of itineraries and today we bring you a special one! Let's get to our post of the day: What to do in Lake Garda in two days? Here at Your Travel to Italy with Ana Patricia you make the trip of your dreams!!! ALSO: see our "Accommodation in Italy – Tips for your holidays!"
---
Watch this video made with a Drone with incredible images of Lake Garda!
(Source: Ruben's Drone Photography)
---
Introduction
Today we go to Lake Garda, the largest Italian lake, which presents itself in a surprising and spectacular way, and can be visited at any time of the year. It is located in northern Italy and is divided into three regions: Lombardy, Veneto and Trentino-Alto Adige, and this makes it very easy to get in and out of there, as it offers a huge range of transport options. The more time available to visit this wonderful place, the better it is, but if you have little time, something around two days: enjoy it! You can make an incredible visit and get to know a good part of the beautiful attractions of the Lake. How about a Boat Trip on the Peninsula and Lake Garda? Click here to learn more! Special price!
Ideal for…
With excellent tourist structure, it is the ideal place for those who want to escape the big city and relax! With charm, elegance and stunning panoramas, Lake Garda is ideal for nature lovers and for those who like to walk, because here, you will walk A LOT!
1) Two-day itinerary in Lago Garda: FIRST DAY
Let's go to our first day in Lago Garda.
First Stop: Sirmione
Our first stop is the fantastic Sirmione, in the charming province of Brescia. A real jewel surrounded by water, which has only one access: a bridge that crosses the Scaligero Castle, one of the most beautiful and well preserved in Italy. Here you will find shops, charming restaurants and characteristic streets, full of beauties that attract our eyes even if we don't want to! You can also observe the city from the top of the tower: the view needs no description! How about a romantic sunset boat trip on the Sirmione Peninsula? Click here to learn more!
Also, of course, a must see is the historic center of Sirmione and, from there, with a short walk, you reach the edge of the peninsula and can visit the Grotte di Catullo (Catullo Caves). From here, you have a panoramic view of the Lake and you can sit down for a coffee while watching all the natural beauty that surrounds you! How about a historic castle cruise with wine tasting? 
Second Stop: Peschiera del Garda
Let's go to Peschiera del Garda, another charming piece of the Lake! Peschiera is a beautiful walled city located in a strategic position. This is due to the presence of the Mincio River that, in the medieval era, made the city an armored fortress. Today, the city presents itself to tourists in a discreet but breathtaking way! Full of beautiful shops and restaurants, it is the ideal place to taste local products: all wonderful!
If you like cycling, you can also rent a bike and get the most out of the view! The city has a long and great trail that accompanies the course of the river Mincio, in a spectacular tour! Pictures? Take! Many! The panoramas are unique! Electronic bicycle adventure between medieval castles and villages? 
Third Stop: Lazise
Another city that deserves attention is Lazise. Ten kilometers north of Peschiera, you will find the beautiful Lazise, ​​a small town in the province of Verona. Here you will find squares and alleys, shops, restaurants and very special views. A tip: always walk 'looking down', because the streets here are decorated with tiles that form beautiful geometric figures!
In the city center, you can stop to admire the beautiful Dogana Veneta (Venetian Customs Building), which was once the first Free Municipality in Italy and is now a beautiful structure with surrounding walls and a colorful port with a beautiful view of the lake. From there, you can truly immerse yourself in nature and either walk or cycle to Bardolino, which is surrounded by beautiful hills and vineyards. There, of course, the delicious, famous and namesake wine is produced. You have finally arrived in Garda.
Fourth Stop: Garda
You have finally arrived in Garda. Allow yourself to explore the city and don't be afraid of 'getting lost' there! The downtown streets are incredible! Climb a piece of the coast and you will soon reach the peninsula of Punta San Vigilio. When you get here, the feeling of having stopped in time is impressive: away from the noise, stress and hustle and bustle of everyday life, you fall in love with this place! The city can be summed up as a church, an inn, a historic village, a large park and a bay with several beaches, ideal for those who literally want to forget that there is life outside! After a long, but profitable day, have a hearty dinner and a well-deserved rest!
---
MAP WITH THE CAR ROUTE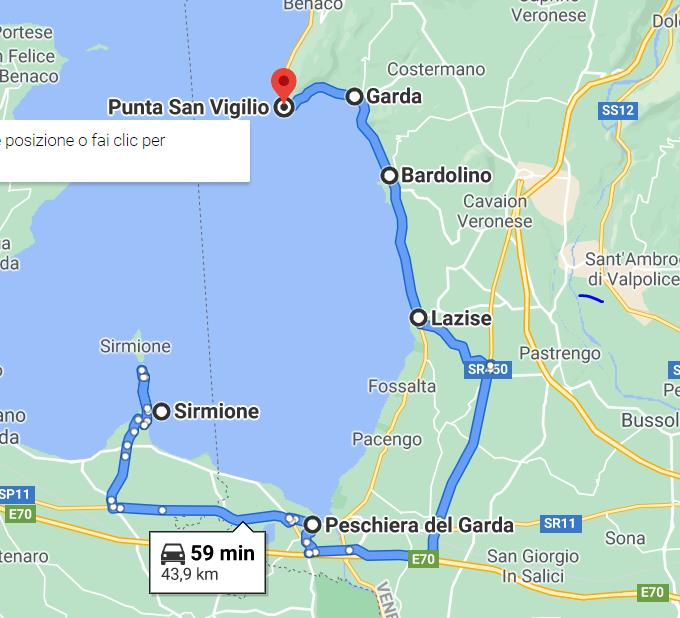 ---
---
MAP WITH THE FOOTWAY ROUTE …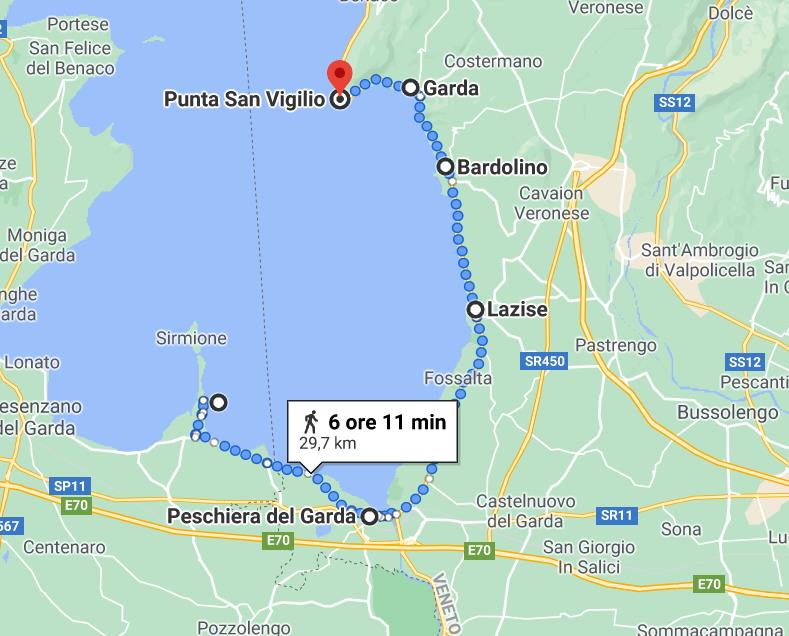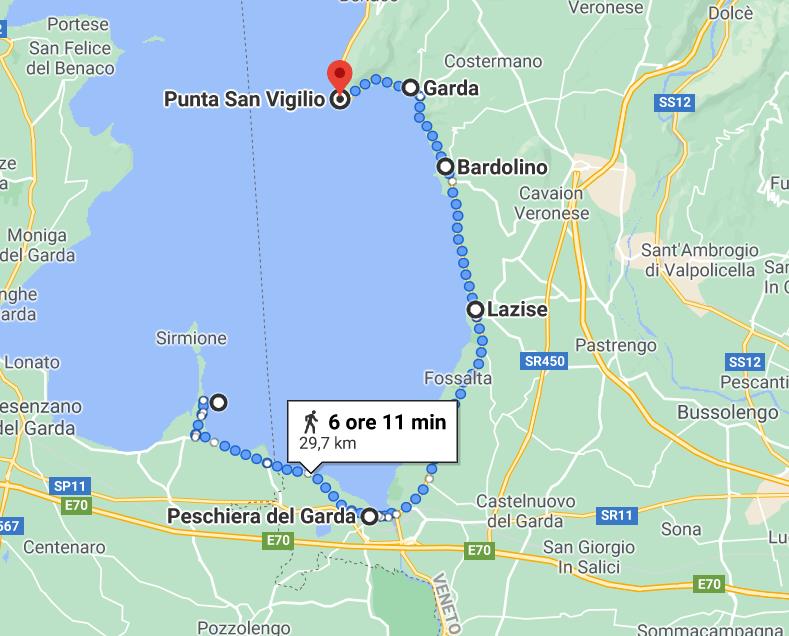 ---
2) Two-day itinerary in Lake Garda: SECOND DAY
We start our second day with a hearty breakfast, a nice stretch and then the walk starts!
First Stop: Torri del Benaco
Our last day of dreams begins with a stop in the city of Torri del Benaco. You can stop at its famous castle and take the opportunity to observe the small port of the town, surrounded by colorful boats. In addition to the castle, you can also visit the museum and then continue for twenty kilometers towards Malcesine. A great option is to rent a bike!
Second Stop: Malcesine
In Malcesine, you will find a very popular tourist destination, Scaliger Castle, and narrow stone streets that wind towards the hill. Here you will also find small 'beaches', with lots of green and the spectacular Monte Baldo, ideal for lovers of water and mountain sports.
Here you can take the modern cable car and reach the top of Monte Baldo to enjoy the view of the entire landscape of Garda. You can also find trekking tracks, you can venture hang gliding and, in winter, even ski. If you prefer to stay in the city, you can visit the Baroque churches, the beautiful old palaces and the famous Apponale Tower, which is imposing at 34 meters high.
Third Stop: Limone Sul Garda
On foot or by bicycle, before leaving, you can go to the splendid path of Ponale. In just 11 kilometers, you reach the unmissable Limone Sul Garda, home of the traditional Garda lemons. It also offers you incredible views with a small port and a charming rural side. If you have some time left, you can also go to the hills of Gardone Riviera, where D'Annunzio, in the 1930s, built his own city: impressive! There, today, you will find a large museum with squares, gardens, palaces and a large theater.
---
MAP WITH THE CAR ROUTE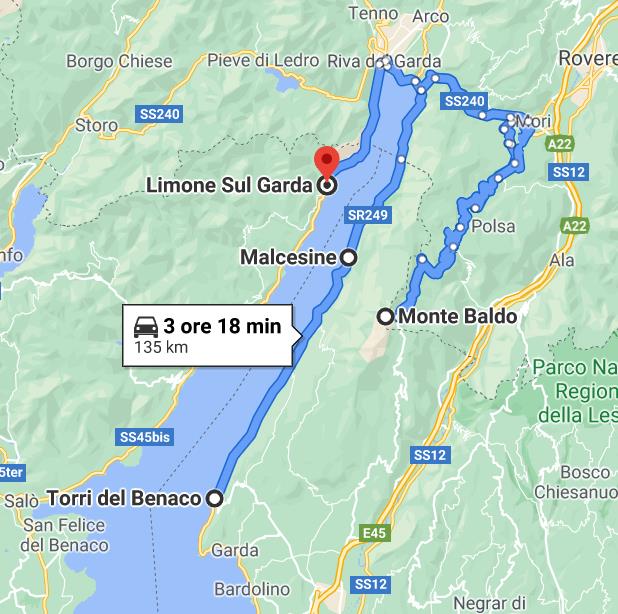 ---
Watch this video and learn: For which monuments in Italy should I buy the ticket in advance?
Subscribe to our channel and receive more videos with information and tips about Italy. Don't forget to leave that Like;)
---
---
Conclusion
What to do in Lake Garda in two days? There is a lot to explore in Lake Garda. It is unfair to try to bring together only a few cities in a small text. In addition, as we have already mentioned, you can visit the cities at any time of the year, since the landscape changes according to the season and it is almost impossible to tell you the most beautiful one! Would you like a special tour of Lake Garda? Talk to me! Together, we can put together a detailed and very special itinerary for this very special piece of our beautiful Italy! Two-day itinerary in Lake Garda, What to do in Lake Garda in two days, Unmissable attractions in Lake Garda.
Are you insecure ?
And if you feel insecure or have no time, and need help to organize your trip, do not hesitate to look for me! I will love to help you make your dream trip to Italy. And how can I do that? Continue reading this post until the end and you will understand how can we make your life and journey easier.
Did my post help you? If yes, make sure to leave your comment below, but if you still have questions, just leave them as a comment below and I will reply, O.K.?
---
---
An Extra Help for your Trip
The best content from Your Travel to Italy!
---
Learn more about our tours in Italy right now!
Best regards from Italy