What are the best beaches in Sicily?
Sicily is one of the most beautiful regions in Italy. With an impressive cultural heritage, the region is one of the most visited and offers almost infinite charms, among them the magnificent beaches! If you are passionate about the sea, stay with us and discover the best beaches in Sicily. Let's get to our post of the day! What are the best beaches in Sicily? Here at Your Travel to Italy with Ana Patricia you make the trip of your dreams!!! ALSO: see our "Accommodation in Italy – Tips for your holidays!"
Introduction
Sicily is a spot-on destination for those looking for fantastic monuments, history and culture, but it is impossible to talk about this magical island without mentioning, of course, the beaches! Here there are beaches for all tastes. Long and very well equipped coastal strips, discreet coves that seem to hide in the Mediterranean vegetation, beaches with sand or pebbles and small colored stones, accessible by boat or on foot. Choosing the most beautiful or the best of them is impossible; there is a multitude of them and one more fantastic than the other is! Now, see the list that we have prepared especially for you, reader! Read also What are the 10 must-see cities in Sicily? e Take the Mount Etna tour: cable car, jeep and walking tour to the summit!
1) What are the best beaches in Sicily? SPIAGGIA DEI CONIGLI
We start with Lampedusa and his Spiaggia dei Conigli ("Rabbits Beach"). This beach is considered by several specialist websites to be one of the most beautiful in the world and it is not difficult to see it appear on lists spread over the internet! Requirements for this, of course, abound: crystal clear sea, white, fine sand and a wild nature that impresses! The blue hues of the sea create a pleasant game of contrasts with the white of the rocks stained with green. A true paradise connected to the western coast of Lampedusa through a strip of sand, only 30 meters long. The beach is a privileged place and this is where the loggerhead sea turtles (Caretta caretta) lay their eggs. Ideal resting place, too, for numerous migratory birds.
(Source: Claudio Mortini)
---
2) What are the best beaches in Sicily? ISOLA DELLE CORRENTI
Another magical place in Sicily is the Isola delle Correnti ("Island of the Currents"), in Porto Palo di Capo Passero (SR). Located in the southernmost point of Sicily, one of the "islands of the island" takes its name from the meeting point of the two currents that flow to the main one: the first from the Ionian Sea, and the second from the Mediterranean Sea. The meeting of the two seas makes here a wild and uncontaminated place, with a unique charm appreciated especially by surfers. The sand here is golden and the intense blue of the sea offers a charming setting. Impossible not to fall in love!
(Source: Parrot Anaf)
---
3) What are the best beaches in Sicily? GUIDALOCA
Another beach that is impossible to miss is Guidaloca, in Scopello (TP). Guidaloca is the largest cove in Scopello, which is a picturesque village known for its Tonnara. Between pebble and sand that blend in the strip that separates it from the sea, this beach offers clear waters and tones that walk between turquoise and emerald green. The landscape here is one that is not easily overlooked: bounded by the Pizzo della Gnacara and Puntazza, on the west side is a 16th century watchtower.
(Source: Marco Miluzzi)
---
4) What are the best beaches in Sicily? ZINGARO NATURAL RESERVE
The Zingaro Nature Reserve in San Vito Lo Capo (TP) also needs to be on the list! In fact, it is one of the most famous beaches in the region. The magic of this place is simply extraordinary, almost indescribable! White coves, interspersed with protruding cliffs, emerge like jewels placed in the emerald sea and offer us a cinematic landscape! The sceneries are rich in pure nature and underwater fauna and, therefore, it is the perfect spot for those who want to dive! The beauty of the reserve reaches its peak on beaches such as Tonnarella dell'Uzzo and Cala Ficarella. Don't ignore Cala Beretta, Cala Marinella, Cala Varo and Punta della Capreria: ESTUPENDAS!
(Source: Travel with us! Patassini Alessandro)
---
5) What are the best beaches in Sicily? SCALA DEI TURCHI
Now, a beach that has been popular with the public for some time, is Scala dei Turchi ("Turkish steps"), in Realmonte (AG). Located near Porto Empedocle, this amazing cliff is a natural monument of white clay that takes the form of a grand staircase with flat steps designed by the winds. To get there, you have to follow a somewhat difficult path, but once you reach your final destination, the view of the place is incomparable! It's worth the effort! On the sides of the cliff there is a white sand beach, 'watered' by a splendid emerald sea and, 200 meters from the coast, two large rocks, 'u zitu' and 'a zita' which, according to local legends, would be two young lovers who died at sea.
(Source: Fanpage)
---
6) What are the best beaches in Sicily? CALLAMOSCHE
In Noto (SR) is Callamosche, one of the least untouched places in Sicily. It is located within the Vendicari Nature Reserve and is gradually revealed as a rare and prodigious jewel. It is located between two rocky promontories and is a small paradise with crystal clear waters and white sand. All the nature here celebrates its impressive beauty among dwarf palms, myrtle, olive, agaves and flowering shrubs. To get to the beach, a short 20 minute walk and voilà: welcome to paradise!
(Source: Gioele Greco)
---
7) What are the best beaches in Sicily? ISOLLA BELA
Already famous, Isola Bela ("Beautiful Island"), in Taormina (ME), is 7 km from the beautiful city just mentioned. Isola Bela, part of the Nature Reserve created in 1998 and the intense blue of the sea, the uncontaminated nature and the wonderful scenery collaborate to make it one of the most beautiful beaches in Sicily. The landscape is extraordinary and fascinating: a rock connected to the continent through an isthmus of (little) sand mixed with stones makes us understand why this place is so special! Although wonderful, it is not an easy beach: the pebbles that go around the sea are not so pleasant to step on, but nothing that a slipper does not solve. How about a Cruise on the Coast with Diving at Isola Bella from Taormina? Click here to learn more!
(Source: Jimmy Mullen)
---
8) What are the best beaches in Sicily? CALA JUNCO
Another beach that cannot be left out of the list is Cala Junco, in Panarea, Lipari (ME). This is one of the most beautiful bays on the splendid island of Panarea and is accessible on foot, in a 30-minute walk, from the beach. In the form of an amphitheater, it is also known for its prehistoric village that dates back to the 16th century BC and has a transparent sea with reflections that sparkle and vary between turquoise, blue and emerald green. A treat for the eyes!
(Source: Mause)
---
9) What are the best beaches in Sicily? FAVIGNANA
In the Egadi Islands (TP) is Favignana, which has a 33 km coastline dotted with bays and coves. In addition to being a wonderful beach is where Cala Rossa is, which is also a place of historical importance: the name derives from the blood that stained the sea during the first Punic war at a very sad time for Sicily. Another beautiful beach is Cala Azzurra, which has a crystal clear sea and a stretch of soft white sand, great for those with children. If you want to visit other fantastic beaches there, take a boat and go to Cala Bianca and the Grotta degli Innamorati  ("Cave of Lovers"), which gets its name because of the two similar rocks placed side by side, which resemble a couple.
Still on the Egadi Islands
Still on the Egadi Islands, a beach made up of stones and gravel, Pollara, can be a great option! Accessible by boat or by a steep path, it borders an imposing cliff overlooking the sea. A clear sea and beautiful colors bath the beach. You can taste the thrill of swimming in a submerged crater of prehistory or admire a breathtaking landscape, rich in details of fairy tales, such as the suggestive natural arch of Perciato. The sunset in Pollara, well, needless to say, it offers unforgettable moments, doesn't it? Here, you can admire a reddish sun with orange hues and, on the islands of Alicudi and Filicudi, you can crown the end of your day.
(Source: Vincenzo Ceraso – Sicily)
---
Map with the best beaches in Sicily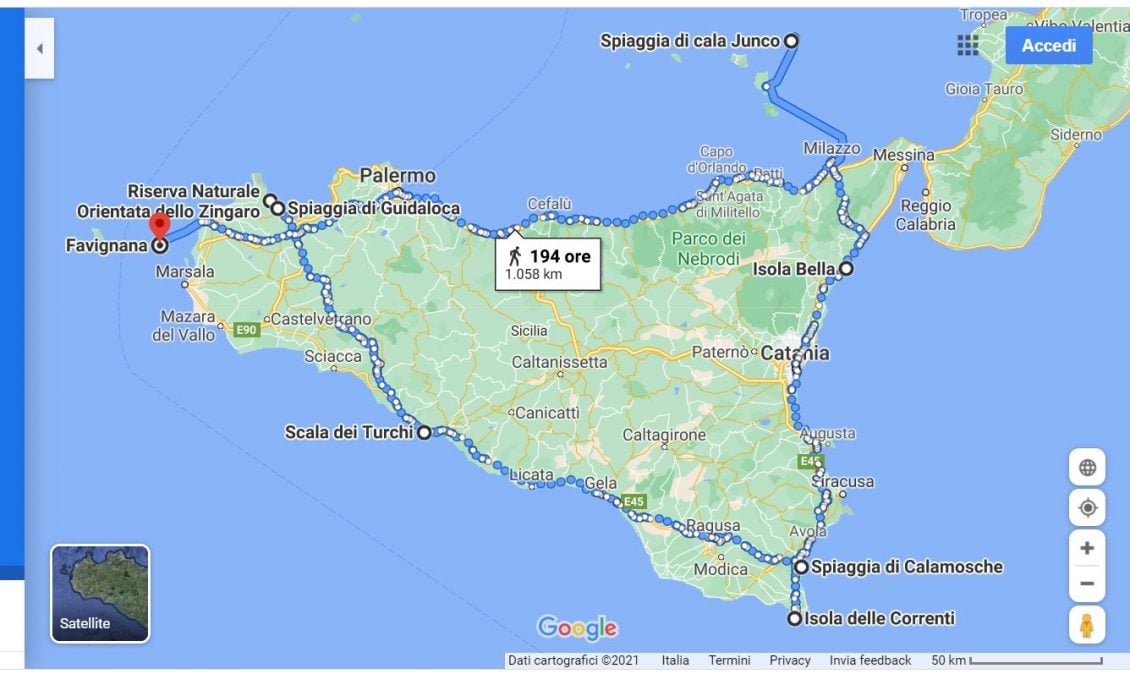 ---
Watch this video and learn: Five things to NEVER do in Italy!
Subscribe to our channel and receive more videos with information and tips about Italy. Don't forget to leave that Like;)
---
---
Conclusion
What are the best beaches in Sicily? If you intended to go to Sicily and visit only the monuments and historic buildings of the big cities, include in your list some of the beaches mentioned in this post, but if your goal was just to visit beaches, I leave you with this cruel question: which beach to choose ! This is because we do not mention even half of the incredible beaches that this unique and special region has; a stroll along the Sicilian coast and you will understand why it is so difficult to bring together the best beaches in Sicily at once!
Are you insecure ?
If you feel insecure or have no time, and need help to organize your trip, do not hesitate to look for me! I will love to help you make your dream trip to Italy. And how can I do that? Continue reading this post until the end and you will understand how can we make your life and journey easier.
Did my post help you? If yes, make sure to leave your comment below, but if you still have questions, just leave them as a comment below and I will reply, O.K.?
---
---
An Extra Help for your Trip
The best content from Your Travel to Italy!
---
Learn more about our tours in Italy right now!
Best regards from Italy