Discover Civita di Bagnoregio one of the most beautiful villages in Italy!
Civita di Bagnoregio is a fairytale village located in the province of Viterbo, a city perched on a tuff hill continually threatened by landslides and depopulation. It is a unique jewel in the world, considered one of the most beautiful villages in Italy and is nicknamed 'city that dies', because of its slow and inexorable fate that condemned it to erosion. Let's go to our post of the day? Discover Civita di Bagnoregio, one of the most beautiful villages in Italy! Here at Your Travel to Italy with Ana Patricia you make the trip of your dreams!!! ALSO: see our "Accommodation in Italy – Tips for your holidays!"
---
Watch the video and get to know this fairytale village
(Source Regione Lazio)
---
1) Discover Civita di Bagnoregio, one of the most beautiful villages in Italy! ITS HISTORY
The village, very antique, dates back to the time of the Roman Empire and appeared six centuries after the birth of Christ. The place has an atmosphere of mystery, with secrets not yet revealed in its geographical position and in a vast network of underground tunnels, so that some have identified it as Fanum Voltumne, the national sanctuary of the Etruscans. Civita di Bagnoregio is located 'suspended' between heaven and earth, on the summit of the mountain, overlooking a vast surrounding territory and connecting to the rest of the world by a very thin and long concrete viaduct. As it is easy to guess, one can reach it only on foot. Despite this, the beauty of this place means that there are around three hundred thousand visitors every year. How about a tour from Rome straight to Orvieto and Civita di Bagnoregio? Click here to learn more!
Its Time and its Beauties
The view is spectacular. We do not know exactly when, and if, she will 'die', but just in case, it is better not to forget about this treasure and visit it as soon as possible. It would be a shame not to take a walk in this wonderful and exciting pearl in the heart of Lazio, before the city 'dies' and closes its eyes forever.
The "ghost town"
This "ghost town" is on a remote island in the middle of the sea, between medieval and renaissance streets, between tuff and clay instead of the sea, unique archaeological sites in the world and evidence from the Etruscan people. With its bright colors, its strength and tenacity, it really does not want to fall asleep forever, becoming more and more the "city that struggles to live", or rather, to survive. The village of Civita di Bagnoregio, which is still standing, is charming to visit, with its medieval houses that are now inhabited by the few remaining families, all immersed in a magical setting that will surprise and excite you and it is thanks to its peculiarity that tourism there is intense. How about a 3-hour private walking tour of Civita di Bagnoregio?
2) Discover Civita di Bagnoregio, one of the most beautiful villages in Italy! ITS ATTRACTIONS
The total absence of cars makes the atmosphere within this village even more surreal. Not to be missed are the scenic Porta Santa Maria, surrounded by majestic palaces and more modest houses. San Donato Square (which houses the old Cathedral, built in the 8th century) and the unique and narrow curves of the medieval and Renaissance style village enliven the city's courtyards and squares. The Belvedere is a must-see, a natural balcony from which you can admire the fantastic landscape of the clay ravines. On the eastern bank of the Belvedere, where there was a Franciscan convent, a cave called Bonaventura is dug in the tuff, which is one of the most revered and noteworthy places.
The Bonaventura Cave is an Etruscan tomb used in the Middle Ages as a hermitage and whose history is linked to the legend that little Giovanni di Fidanza, the future Saint Bonaventure, recovered from a deadly disease at the hands of St Francis during his stay in Bagnoregio.
Curiosity
Only ten inhabitants live in Civita di Bagnoregio, but a deeply familiar air floats between past and present with its flowers on the windows, Renaissance windmills and narrow, colorful alleys that give the village a magical touch. This, together with the many tourists who visit the city, makes this place a show, in a way that it seems to be a contradiction attributing to it the nickname of "ghost town".
Access to Village
Access to the village costs 1.50 euros and they use the resources to support the preservation of the city. In addition, in one of the many restaurants, you can taste typical local dishes, accompanied by good wine and beautiful walks to complete a wonderful day.
---
Map: Civita di Bagnoregio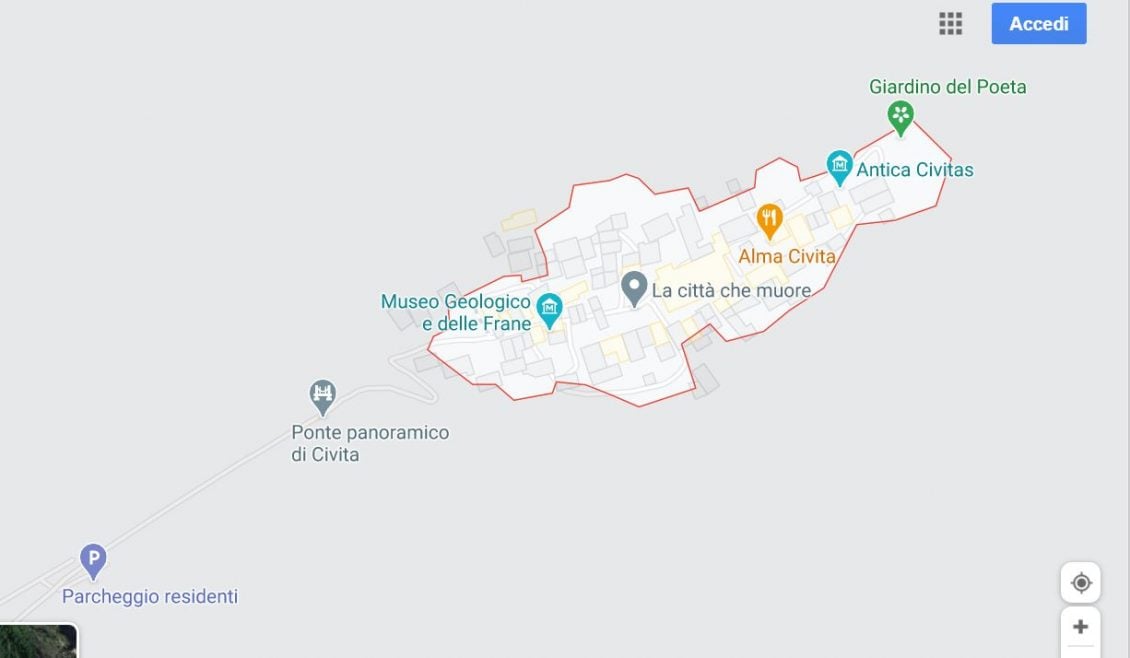 ---
---
How to get to Civita di Bagnoregio?
---
Bagnoregio is located on the border between Lazio and Umbria. You can be reach it by following the S.S. Cassia to Montefiascone and then towards Orvieto, to find, after ten kilometers, the junction from which, on the right, you can take the road to Bagnoregio.
1) How to get to Civita di Bagnoregio? BY AIRPLANE
Those who prefer to arrive by plane should get off at the Leonardo da Vinci international airport, Fiumicino, in Rome. (Distance of about 130 Km). See below our Special Post about Rome Airport!
Also read our posts about Airports in Italy:
2) How to get to Civita di Bagnoregio? BY TRAIN
By train or bus you can get off at Orvieto or Viterbo station. Did you know that Trenitalia is the main Italian company dedicated to the management of railway transport? Also find out "What is the difference between trains in Italy?". Would you like to save? So buy your ticket online in advance and save a lot, read the Post "How to buy a train ticket in Italy?".
3) How to get to Civita di Bagnoregio? BY CAR
Driving along the A1 motorway, if coming from the north, you can exit towards Orvieto and, from here, head towards Bagnoregio (18 km); if you arrive from the south, you can exit at the cabin of Orte, towards Viterbo (highway), take the Bagnaia-Montefiascone exit and follow the provincial road Teverina, which takes you to Bagnoregio.
Traveling by car in Italy
How about if I give you a rental car option? Are you ready for it? If you are renting a car be sure to read our posts in the section Driving in Italy on the blog Your Travel to Italy. In addition to car itinerary tips, we have everything about signage, tolls, roads and many more tips.
Don't know where to rent the car?
We have a partner that can help you: Rent Cars! Have you ever thought about renting a car in Italy, without leaving your home? Click on the banner below to learn more! Search, compare and choose!
---
Watch this video and learn: What is the average cost of a day in Italy
Subscribe to our channel and receive more videos with information and tips about Italy. Don't forget to leave that Like;)
---
---
Conclusion
Discover Civita di Bagnoregio one of the most beautiful villages in Italy! Like all precious things, it is a place of great beauty and fragility. At the same time, this is part of its charm, which depends largely on the points mentioned. A very small city where time seems to have stopped, reachable only on foot, along a reinforced concrete bridge built to benefit the few remaining citizens and the many tourists who visit it from all over the world. Fantastic, magical and dreamy, the 'city that dies' will attract you at first sight.
Are you insecure ?
If you feel insecure or have no time, and need help to organize your trip, do not hesitate to look for me! I will love to help you make your dream trip to Italy. And how can I do that? Continue reading this post until the end and you will understand how can we make your life and journey easier.
Did my post help you? If yes, make sure to leave your comment below, but if you still have questions, just leave them as a comment below and I will reply, O.K.?
---
---
An Extra Help for your Trip
The best content from Your Travel to Italy!
---
Learn more about our tours in Italy right now!
Best regards from Italy