Best places to visit in Costa Smeralda 
The wonderful Emerald Coast is nothing more than the coastal stretch of northeastern Sardinia (the famous area of ​​Gallura), in the municipality of Arzachena, and extends along an eighty-eight kilometer stretch. It is one of the most charming and famous places in Sardinia and represents a pearl nestled in a magnificent emerald sea. Shall we find out what are the best places to visit in Coasta Smeralda? The famous Emerald Coast! Here at Your Travel to Italy with Ana Patriciayou make the trip of your dreams!!! ALSO: see our "Accommodation in Italy – Tips for your holidays!"
---
Watch this video about Sardinia
(Source: 4k STUDIO)
---
Introduction
Its name is because of the particular color of the sea and the chromatic variations of the transparent waters that crawl through a maze of granite rocks, creating enchanting views. The Emerald Coast is synonymous with dreamy beaches, lonely piers and sea with delicate tones. In this stunning panorama, there are low houses nestled between granite and Mediterranean vegetation, countless villas, golf courses and seaports perfectly integrated into the naturalistic landscape. These elements add to the history and culture of a region with ancient traditions. Read also Car Itinerary in Sardinia.
Its Coast
The entire coast is surrounded by fascinating places to discover, such as Porto Cervo, where the south meets beautiful beaches that lead from the Gulf of Pevero to Cala di Volpe, passing through Punta Capriccioli, in front of which the islands of Mortorio and Soffi rise, included in the Madalena National Park. Another very popular place is Porto Rotondo, overlooking the wide bay of Cugnana, populated by houses and squares with shops of all kinds, in a magnificent nature. How about taking a 7-hour boat ride through the Maddalena Archipelago? Click here to learn more!
1) Best places to visit in Costa Smeralda! VISIT SAN PANTALEO
At this point, you will discover the beauty of the Emerald Coast from a beautiful village near Porto Cervo, called San Pantaleo. Here, if you arrive on Thursday morning, there is the famous market where you can find a little bit of everything. It is popular with regular Coast customers, and is located in the church square, all in granite surrounded by oleanders, creating a special atmosphere. San Pantaleo is the secret of Sardinia, the Emerald Coast you don't expect, a town loved by artists in a mountainous landscape ten minutes from the pristine sea of ​​Porto Rotondo and Porto Cervo, and even if you don't go on Thursdays, it's worth walking between shops and craft businesses in the city.
2) Best places to visit in Costa Smeralda !VISIT PORTO CERVO
Then go to Porto Cervo, the center of the Emerald Coast. Elegant place, frequented mainly by the international jet set and elite tourism, with yachts anchored in one of the most important seaports in the entire Mediterranean, in addition to famous street and local characters. It is worth visiting the church of Stella Maris, considered a masterpiece of modern architecture, with the portico of the facade supported by six monoliths and its bell tower in the shape of a cone. And then, the beaches, which are the real attraction of the place, such as that of Pevero, that of Liscia Ruja and the bay of Petra Ruja, just to name a few.
The VIPs in Porto Cervo
The area is abundant with VIPs, characters from the artistic world, football players and other prominent personalities. Do not miss the port area, the Chiacchiere Square, the narrow streets and the underground, as well as the beautiful architecture of the houses, reminiscent of the old Gallura houses. A photo on the wooden bridge is mandatory. Here, you can walk among the boutiques of the most famous brands in the world and among the large yachts that roam here all summer.
3) Best places to visit in Costa Smeralda ! VISIT CALA DI VOLPE
Then go to another beautiful place, Cala di Volpe, very small, but absolutely a must-see. Cala di Volpe is one of the most beautiful stretches in Gallura. The beaches are drenched with crystalline waters and surrounded by junipers. Here are many luxury hotels, resorts and residences, as well as a number of renowned restaurants with excellent chefs. The beach is white sand and this bay is  famous for its luxury hotel designed by Jacques Couelle, making it a destination for splendid tourism. At the south end of the beach there is also a small wooden pier where you can dock small boats. Some sequences from the film '007 – The spy who loved me' were filmed in this location. The entire Cala di Volpe is protected behind the typical vegetation of the Mediterranean scrub and the small beaches stand out with their pink sand, between the green of the vegetation and the blue of crystalline waters.
---
Watch this video about Cala di Volpe
(Source: HouseMachineTV)
---
4) Best places to visit in Costa Smeralda ! VISIT CAPRICCIOLI
The beautiful little Capriccioli beach, not far from the city of Arzachena, is a small jewel surrounded by Mediterranean marks, blue waters, fine white sand and granite stones. Ahead, you can admire the islands of Soffi and Camere, which are part of the Maddalena Archipelago National Park.
---
Watch this video about Maddalena Archipelago
Source: ldo b&b Sardegna (Arzachena)
---
5) Best places to visit in Costa Smeralda  VISIT THE ISLAND OF MORTORIO
This authentic heavenly paradise is present almost everywhere in its wildest state, which enjoys this game of nature. A true corner of paradise, its clear waters are framed by vegetation and some stone walls, and it seems to be inside a famous painting. In some places, however, you can rent sunbeds and chairs to satisfy even the most demanding desires. From Cala Capriccioli it is possible to rent small boats to go to the ancient island of Mortorio, a natural oasis where you can admire rich vegetation and discover spectacular scenery.
---
Watch this video about Mortorio
Source: APOV
---
6) Best places to visit in Costa Smeralda !VISIT ARZACHENA
Other interesting attractions on the Emerald Coast are picturesque villages, archaeological sites and naturalistic areas, such as Arzachena, which is an area rich in history. This municipality was inhabited at the beginning of the Roman era and has several monuments that date back to the Nuraghi period, such as Nuraghe Albicciu, necropolis of the Nuraghi of Li Muri and Tomb of the Giants. Just as the historic center is interesting and a must see with its beautiful churches dedicated to Saint Lucy and Saint Peter.
7) Best places to visit in Costa Smeralda ! VISIT PORTO ROTONDO
We head to another known area; we are talking about Porto Rotondo, a beautiful almost Venetian village a few kilometers from Olbia. In this tourist place, for the excellence of the entire Emerald Coast, there is also the San Marco Square, the theater, the Sassi beach, the beaches of Cala Sabina, Cala Moresca and Capo Figari, reaching the Aranci Gulf. The city has not been hit by mass tourism yet, and perhaps for this reason it expresses an even more particular charm, between the streets of the old village and craft shops.
8) Best places to visit in Costa Smeralda !VISIT SANTA TERESA DI GALLURA
One of the most attractive tourist sites in Sardinia is Santa Teresa di Gallura, located in the northern part of Sardinia, and is much closer to Corsica. In this place, you can admire the Museum of the Foundation, the Church of San Vittorio, the Municipal Palace and the Longosardo Tower. Surrounded by many beaches like Rena Bianca, Rena di Ponente, Colba and Santa Teresa, it also offers events such as the Feast of the Foundation, the patron saint and the celebrations for St. Thomas.
9) Best places to visit in Costa Smeralda! VISIT STINTINO
Another noteworthy place is Stintino, which has become a well-known tourist destination in the past twenty years, now considered one of the most important seaside locations on the northern coast of Sardinia. Stintino is only accessible by boats and its coast is a true paradise at sea with crystalline waters, such as Praia Pelosa. In Stintino, it is interesting to visit the old port area, the old heart of the original village, and the Tonnara Museum. Leaving the Stintino Promontory, towards Gallura, you can admire the steep rocky promontories that protect fascinating and famous caves.
---
Map 01 – Costa Smeralda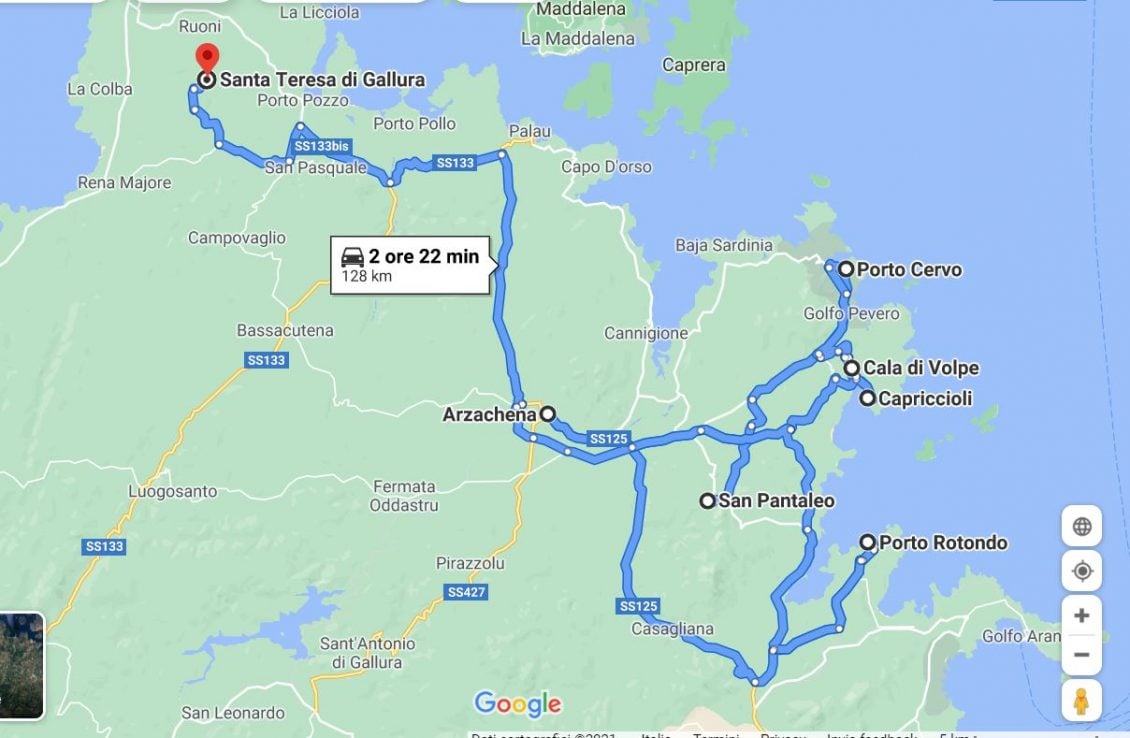 ---
Map 02 – Costa Smeralda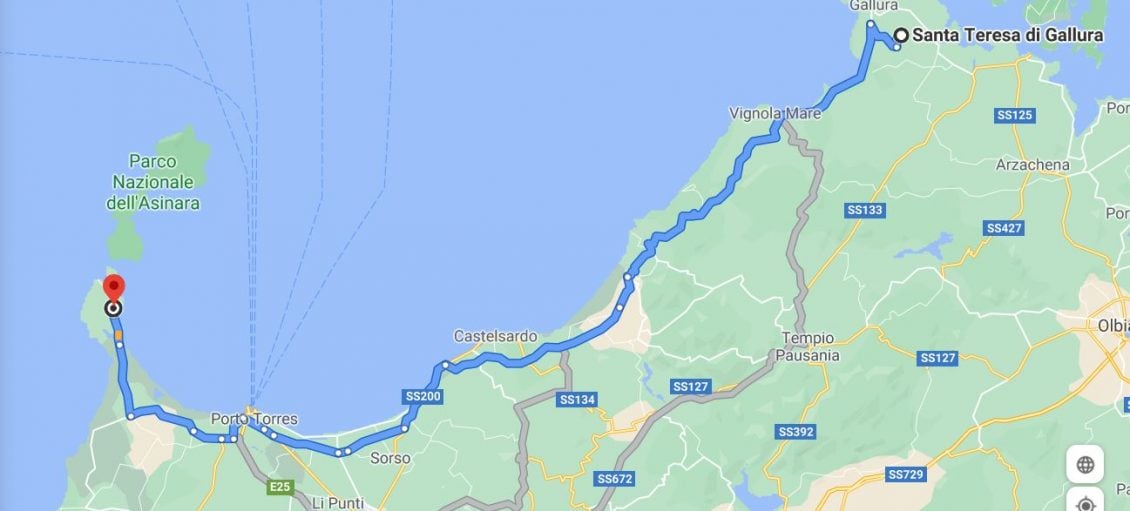 ---
How to get to Sardinia?
---
The ideal destination for summer holidays for a 5-star relaxation is undoubtedly Sardinia with its beautiful beaches. In addition, if the area you choose is the Emerald Coast, then you are wondering how to get there. Arrive at Olbia Airport. At this point, you have to see how to continue your trip to the Coast. Either way, you have different alternatives to choose. See below:
1) How to get to Sardinia? BY BUS
You can reach the Emerald Coast by bus via a line that connects the airport every day with the main tourist sites on the Costa.
2) How to get to Sardinia? BY TAXI
A good alternative to the bus can be the taxi, which you find directly outside the airport.
3) How to get to Sardinia? BY CAR
If you prefer the comfort and tranquility of a car with which you will be able to travel to all places on the coast, remember to rent a car before leaving. Once you arrive in Olbia, you will not have to worry about anything, the car will be there waiting for you to take you wherever you want.
Traveling by car in Italy
How about if I give you a rental car option? Are you ready for it? If you are renting a car be sure to read our posts in the section Driving in Italy on the blog Your Travel to Italy. In addition to car itinerary tips, we have everything about signage, tolls, roads and many more tips.
Don't know where to rent the car?
We have a partner that can help you: Rent Cars! Have you ever thought about renting a car in Italy, without leaving your home? Click on the banner below to learn more! Search, compare and choose!
---
Watch this video and learn: What is the average cost of a day in Italy?
Subscribe to our channel and receive more videos with information and tips about Italy. Don't forget to leave that Like;)
---
---
Conclusion
Best places to visit in Costa Smeralda? The Emerald Coast is the most famous place in Sardinia, with beautiful beaches and a nightlife among the most exclusive of summer in Italy. This part of the coast is certainly more 'hardened' than many others in Sardinia are, but it gives unforgettable emotions.
Are you insecure?
If you feel insecure or have no time, and need help to organize your trip, do not hesitate to look for me! I will love to help you make your dream trip to Italy. And how can I do that? Continue reading this post until the end and you will understand how can we make your life and journey easier.
Did my post help you? If yes, make sure to leave your comment below, but if you still have questions, just leave them as a comment below and I will reply, O.K.?
---
---
An Extra Help for your Trip
The best content from Your Travel to Italy!
---
Learn more about our tours in Italy right now!
Best regards from Italy